Fashion Revolution Week | Who Made Your Clothing?
It is Fashion Revolution Week 2023, a time to remember the tragedy of the Rana Plaza collapse in 2013, where more than 1,100 people lost their lives and over 2,500 were injured. This disaster occurred 10 years ago in Bangladesh and was a result of unsafe working conditions in a fast fashion factory. The building's owner had ignored warnings about structural issues, and the workers were forced to work in an environment that was unsafe even after protests from the workers. This disaster brought to light the harsh reality of the fashion industry and the conditions that many garment workers face around the world.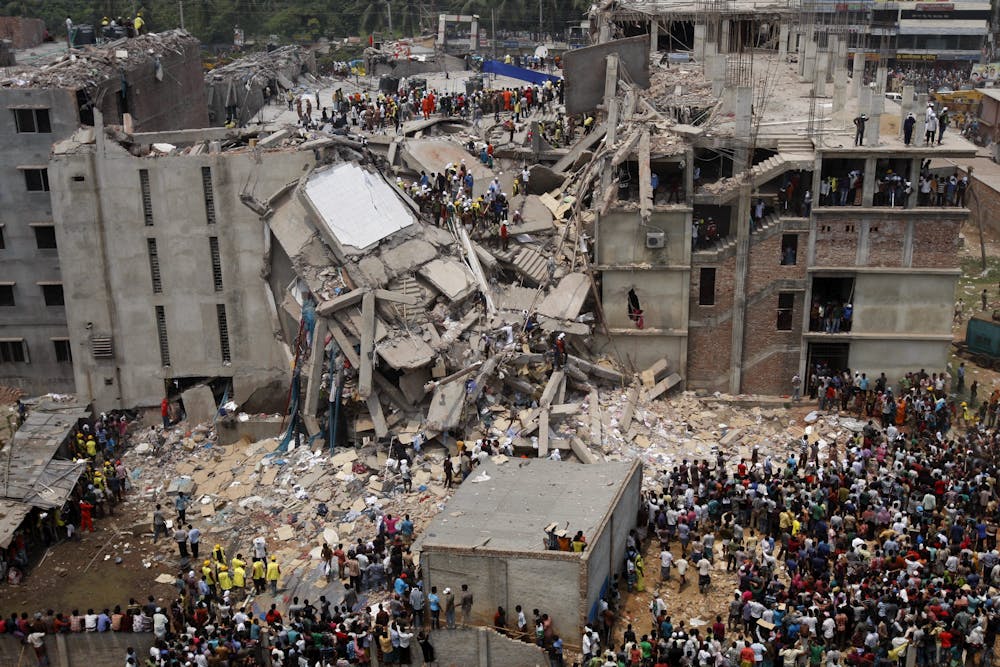 Rana Plaza Disaster, 2013.
10 years on in Bangladesh, the government has increased the minimum wage for garment workers and passed new labor laws to protect workers' rights. In addition, many international brands signed the Bangladesh Accord on Fire and Building Safety, which is a legally binding agreement to improve working conditions and prevent similar tragedies from occurring. A great update but a little too late for the thousands of people affected by the tragedy.
In the aftermath of the disaster, a number of international initiatives were launched to promote ethical fashion and protect workers' rights. One such initiative is Fashion Revolution, which was founded in the UK in response to the tragedy. This organization calls for greater transparency in the fashion industry and encourages consumers to ask "Who Made My Clothes?" to promote awareness and transparency.
By asking companies "who made my clothes" fashion companies are held accountable for the conditions their workers are working in through supplier transparency. This means that fashion companies need to ensure that their suppliers are transparent about their processes and conditions in which their employees and contractors work. It is important for consumers to know that the people who make their clothes are treated fairly and paid a living wage so that tragedies like the Rana Plaza collapse don't happen again.
Choosing a slow fashion brand that is sustainable and ethical is crucial in ensuring that garment workers are treated fairly and work in safe environments. Ethical slow fashion brands ensure that their workers are paid a living wage, are in safe environments, and are not exposed to harsh chemicals or hazardous working conditions. These brands also strive to reduce waste, use sustainable materials, and promote environmentally friendly practices.
Merino Country - We made your Clothes!
At Merino Country, we look after the people who make the clothing, underwear and accessories we sell and also ensure our suppliers in the production chain do the same. We choose to make our clothing in-house in our own factory, right  here in Australia, where our workers are treated fairly and can work in a safe environment. Working closely with  farmers, wool processors, knitters, dyers and our makers ensures a quality garment, we take pride in the fact that our products are ethically made being grown and sewn locally and are sustainable and bio-degradable.
Fashion Revolution Week 2023 is a time to remember the Rana Plaza tragedy and the importance of choosing ethical slow fashion brands. At Merino Country, we are grateful for the past 30 years of support from you that has allowed us to provide ethically made Merino Clothing and underwear. While we have always  made our garments in a sustainable and ethical manner, we hope that more companies will see the importance of fair labor practices and sustainability in the fashion, clothing and textile industry.
It is essential that consumers are informed and make conscious decisions when it comes to purchasing clothing and support brands that prioritize the well-being of garment workers and the environment, so remember to always check the label and ask who made your clothing and underwear!